WHAT'S ON
We have a varied programme of exhibitions, events and activities for all the family.
Artistic Rustington
From August 2022 until January 2023
This exhibition is celebration of the Museum's Art Collection and contains many pieces by artists from Rustington and also views from the Village. It won't be just paintings that are shown. Books, postcards and other objects relating to the artists will be on display.  
The artists featured include Albert and William Belleroche who lived at the Old Manor House to Arthur Rackham who stayed at the home of Graham Sutherland. There will also be a changing display of works by lesser known artists, showing views of the Village. This lovely painting of the church c1903 will be on display alongside other views.
The most exciting items though will be paintings on loan from other Museums, all with a Rustington connection…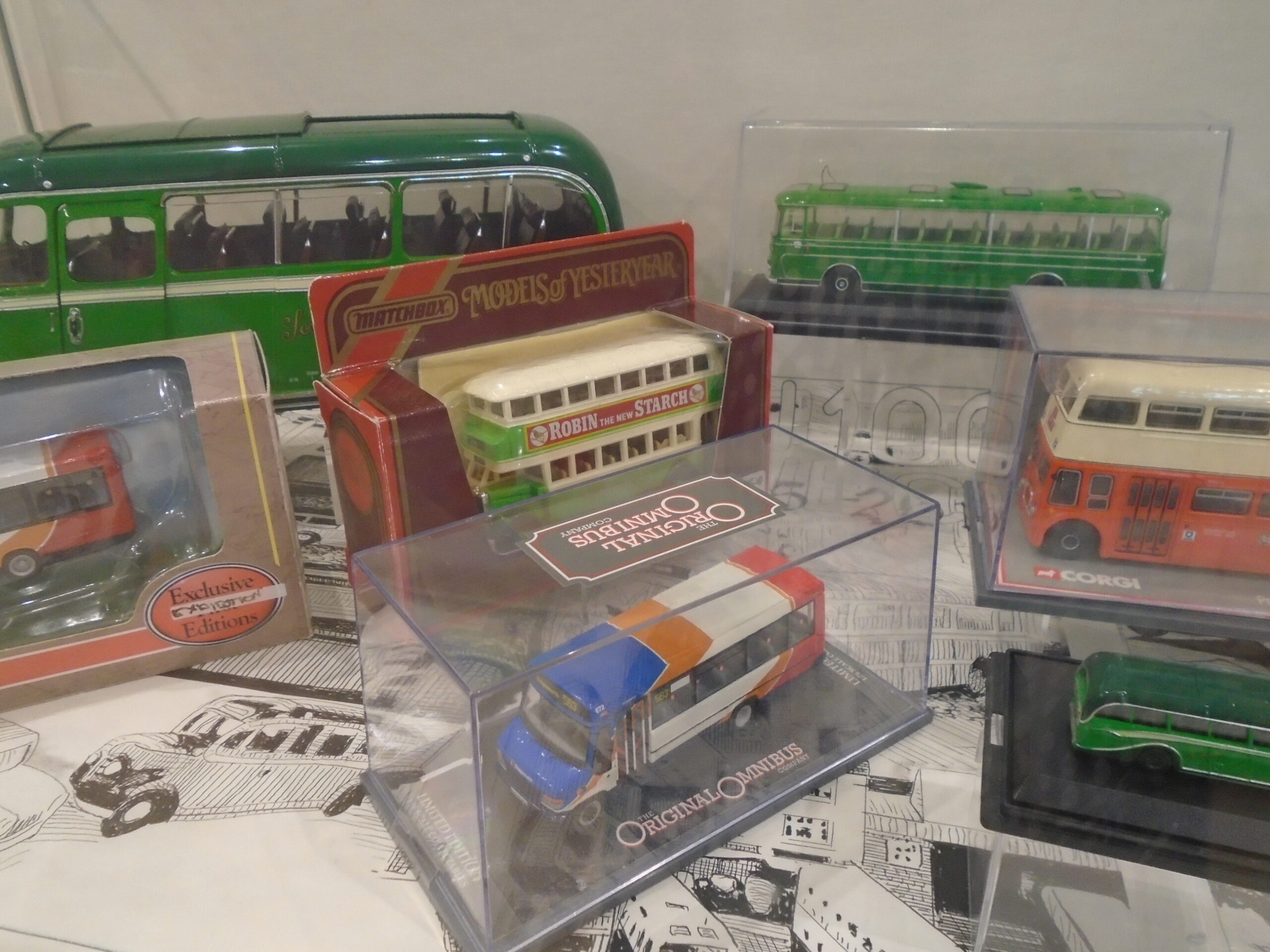 Community Case – Southdown Buses
From August 2022
We have a fantastic display of model buses in the Southdown's livery. From the original green to the modern orange, white and blue, the buses are a nostalgic trip. Can you find the routes you remember?
Linking with the art exhibition, there are also folders of artwork by Paul Darton, who lent us the buses. They are lovely sketches of the buses going through the village and other views.
Talks held at Rustington Museum 

Life and work of Charles Stadden
Wednesday, 21 September 2022,
7 – 9pm
Speaker: Andrew Stadden
Andrew will be sharing the story of his father, Charles, who was a model maker and artist who lived in Rustington. His work specialised in toy soldiers and art featuring military uniforms. The talk coincides with the "Artistic Rustington" exhibition.
Book tickets here:
https://www.eventbrite.co.uk/e/life-and-work-of-charles-stadden-tickets-347884250157
Image: art by Charles Stadden in the Museum collection
For more details contact us.

The Glasshouse Crops Research Institute
Wednesday, 19 October 2022
7 – 9pm
Learn what when on at the GCRI, and the fascinating research they did with tomatoes and other crops.
Book tickets here:
https://www.eventbrite.co.uk/e/the-glasshouse-crops-research-institute-tickets-390974173277 
Image: map extract from 1961 showing the GCRI
For more details contact us.

Local Suffragists and Suffragettes
Wednesday, 16 November 2022
2 – 4pm
Littlehampton and Rustington were home to several women who fought for womens's suffrage. Angela Tester tells more about their lives and the parts they played.
Book tickets here:
https://www.eventbrite.co.uk/e/local-suffragists-and-suffragettes-tickets-406794612637 
Image: Rhoda and Agnes Garrett, Suffragists from Rustington
For more details contact us.
Family Activities – now available on-line


Jigsaw Puzzle
Rustington Church in the snow
What's the fastest time you can complete the puzzle in?
Click the link below to have a go!

Word Search
Street and road names
Can you find the street and road names in the word search?
Careful – they can be found in any direction and will be a different layout each time you play.
Follow this link:
https://thewordsearch.com/puzzle/3089403/where-in-rustington/

Colouring in
The Street
Add some colour to this view of Church Farm Cottages in The Street. You can print off a copy to enjoy at home!